Regular price
Rs. 1,999.00
Sale price
Rs. 999.00
Unit price
per
Sale
Sold out
Quality Products

Easy Returns

Fast Shipping
Description

Resveratrol Supplement - 500mg High Potency, Natural Antioxidant Support, Anti-Aging, Cardiovascular Health, Joint Pain Relief - 30 Veggie Capsules

Replenish your body's natural defenses with our 500mg Resveratrol supplement. Loaded with antioxidants, Resveratrol helps to revitalize the cells in your body, promoting anti-aging and cardiovascular health. Experience relief from joint pain with this premium quality supplement, delivered conveniently in veggie capsules.

Natural antioxidant support to help reduce the appearance of fine lines, wrinkles, and other signs of aging. It also supports cardiovascular health and joint pain relief, containing 30 veggie capsules for daily use.
High potency natural antioxidant which supports anti-aging, cardiovascular health, and joint pain relief. It promotes healthy cardiovascular functioning by helping to maintain normal cholesterol levels, reducing inflammation and promoting healthy blood circulation. 30 veggie capsules per bottle.
This Resveratrol Supplement provides 500mg of high potency resveratrol in 30 veggie capsules. Resveratrol is a natural antioxidant, known to provide anti-aging, cardiovascular and joint health benefits. It supports joint pain relief and mobility, reducing inflammation and promoting overall joint health.
100% natural and vegetarian supplement. Loaded with naturally-sourced antioxidants, it supports anti-aging, cardiovascular health, and joint pain relief. All without the use of artificial additives. Get reliable, sustainably-sourced benefits – naturally.
Share
View full details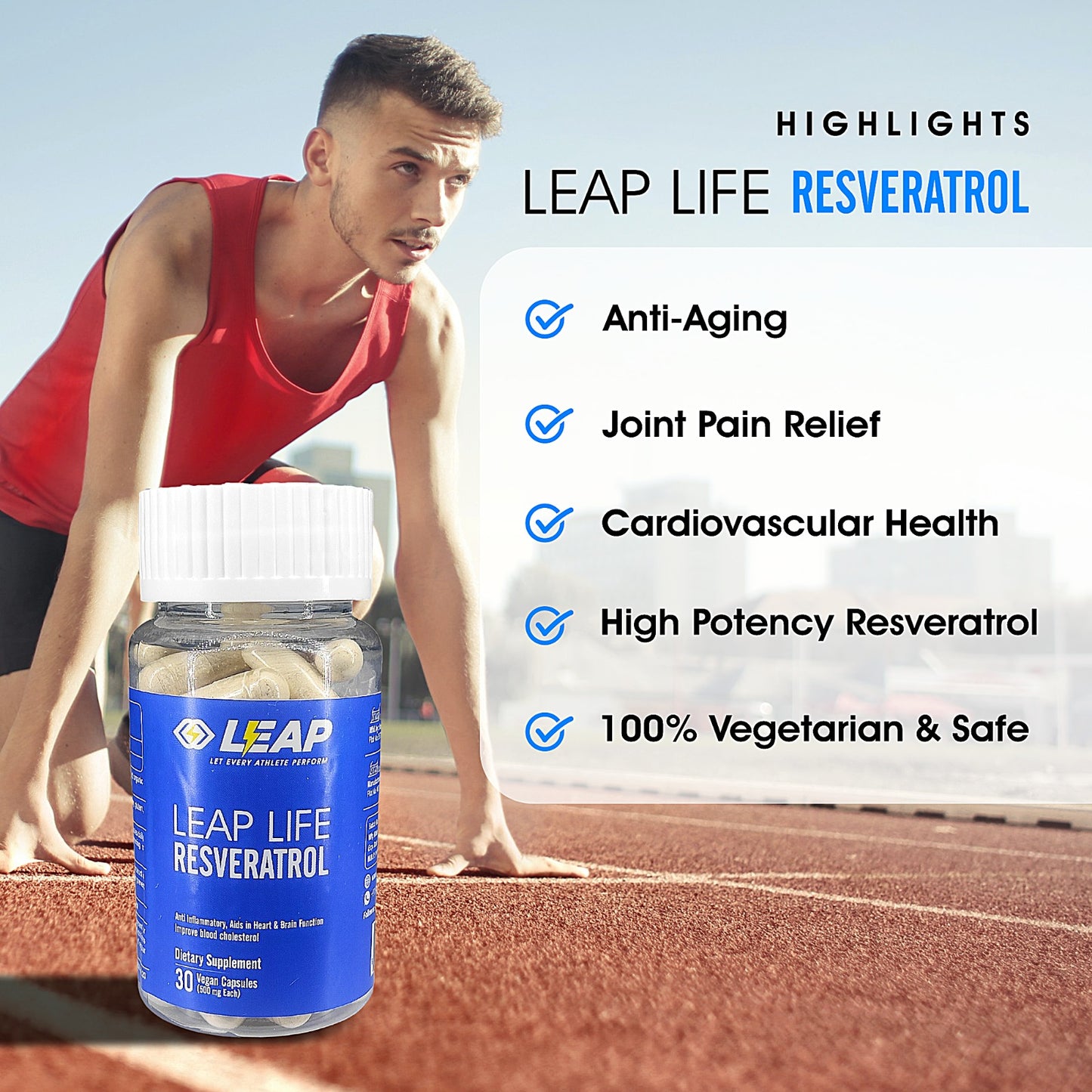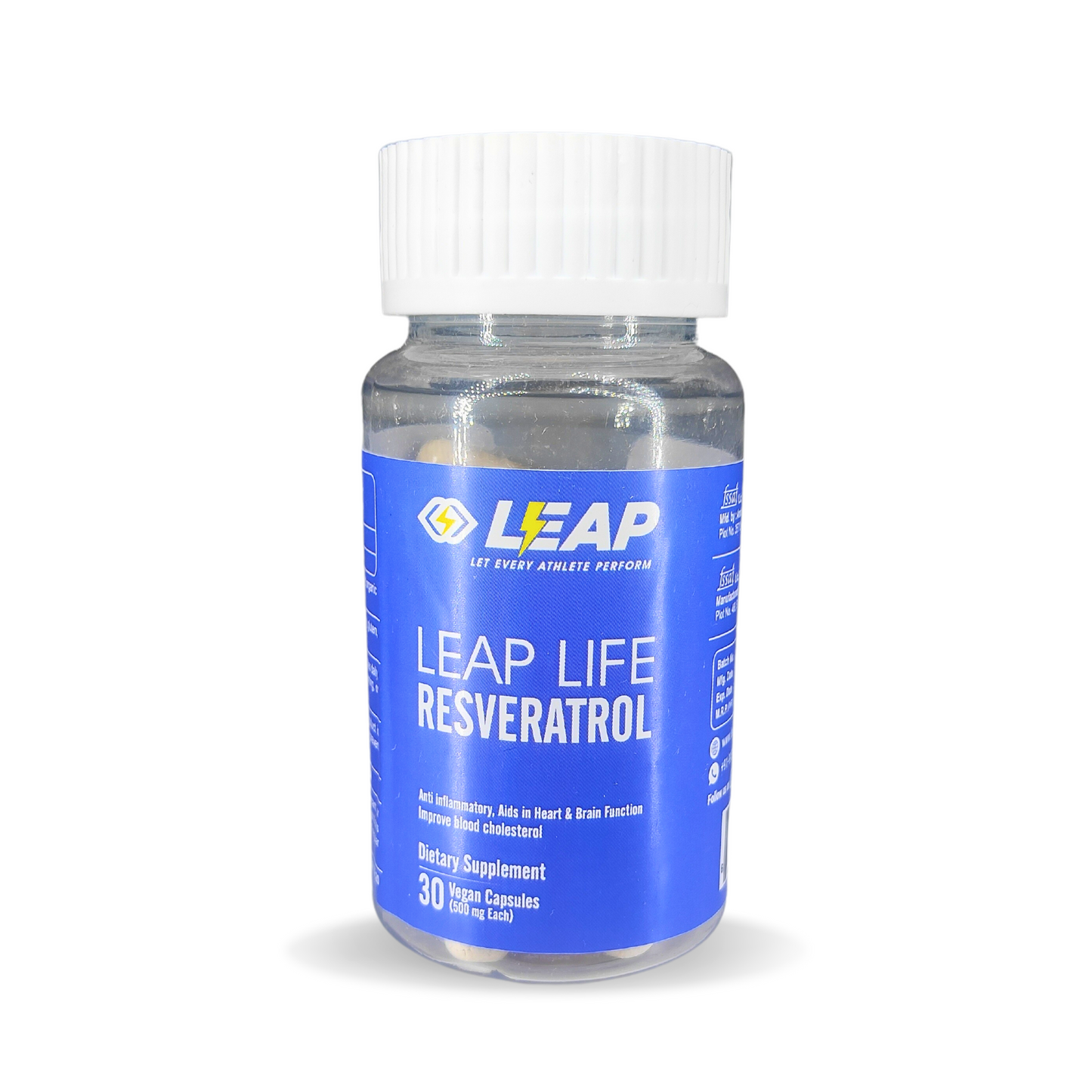 FAQs
What is Leap?

Leap is India's first sports nutrition brand that has been launched by ultra-runners who understand the importance of nutrition in endurance activities. Our founders have represented India in many international events.

They have tried Leap in their goal races to test its effectiveness before sharing it with the sports community in India. Leap is a science-based company and we only use the ingredients that have been proven effective in various clinical studies and peer-reviewed research articles
Are Leap products Vegan?

Yes, all of our products are Vegan. Our ingredients have either been sourced from natural food sources or have been synthesized in the lab. No animal products have been used in Leap.
Are there any side effects of gels?

These gels have been approved by FASSAI and there is no health concern related to their consumption. If you have a pre-existing medical condition, please consult your doctor.
Can Leap products be used as food?

Leap energy gels along with Leap storms can definitely be used as food, wherever necessary. Leap mountaineers have survived on gels for a few days. We however recommend that our product should be taken as a supplement when one is not involved in extraneous physical activity.
Can energy gels be consumed as is or it needs to be taken with water?

Although energy gels can be taken as is, we highly recommend the consumption of this product followed by a few sips of water. This enhances the absorption of all nutrients that provide instant energy.