Regular price
Rs. 2,399.00
Regular price
Rs. 2,880.00
Sale price
Rs. 2,399.00
Unit price
per
Sale
Sold out
Quality Products

Easy Returns

Fast Shipping
Description

Introducing the Leap Energy Gels 12-Flavor Variety Pack, the ultimate fuel for your active lifestyle.
Packed with 12 mouthwatering flavors, this all-in-one pack is designed to keep you energized and focused, helping you push beyond your limits. Say goodbye to fatigue and hello to enhanced performance with Leap Energy Gels!

Why choose Leap Energy Gels? Let's dive into the benefits:

Leap Mount: Experience the refreshing burst of mountain-inspired flavors that invigorate your senses and uplift your performance.

Cola: Indulge in the nostalgic taste of cola while enjoying a steady release of energy that keeps you going strong.

Coffee (No Caffeine): Savor the rich and robust flavor of coffee, minus the caffeine. Enjoy the taste without compromising your sleep.

Peach: Treat your taste buds to the juicy sweetness of peach while fueling your body with the endurance it needs.

Caramel: Delight in the smooth and creamy caramel flavor, providing a delectable boost to power through your workouts or races.

Chocolate: Indulge in the velvety goodness of chocolate, giving you a decadent energy boost that satisfies your cravings.

Coffee (Highly Caffeinated): Get a powerful kickstart with the intense flavor of highly caffeinated coffee, providing a surge of energy when you need it most.

Ginger Classic: Experience the zing of ginger in this classic flavor, known for its soothing properties and easy digestibility.

Mango: Transport yourself to a tropical paradise with the exotic taste of mango, fueling your performance with a burst of natural sweetness.

Orange: Enjoy the tangy and refreshing flavor of orange, giving you a citrusy lift to conquer any physical challenge.

Banana Strawberry: Unleash the perfect blend of fruity goodness with the delightful combination of banana and strawberry, keeping you energized and focused.

Watermelon: Quench your thirst and reinvigorate your senses with the juicy and hydrating taste of watermelon, providing a refreshing burst of energy.

Leap Energy Gels are carefully crafted to dissolve quickly, ensuring easy consumption and maximum absorption. These gels are formulated to deliver a steady stream of energy, preventing energy crashes and keeping you at the top of your game.

Don't let fatigue hold you back. Fuel your performance, conquer your goals, and embrace the power of Leap Energy Gels.

Order your Leap Energy Gels 12-Flavor Variety Pack today and experience the ultimate fuel for your active lifestyle!

1. 12 flavors in one pack, offering a variety of tastes to satisfy your cravings
2. Fast-dissolving formula for easy consumption and quick energy release
3. Provides a steady stream of energy without the fear of crashes
4. Ideal for athletes, fitness enthusiasts, and anyone in need of an energy boost
5. Say goodbye to fatigue and hello to enhanced performance
Made with quality ingredients to support your active lifestyle

Order your Leap Energy Gels 12-Flavor Variety Pack now and unleash the power of a versatile and energizing fuel for your every adventure!
Share
View full details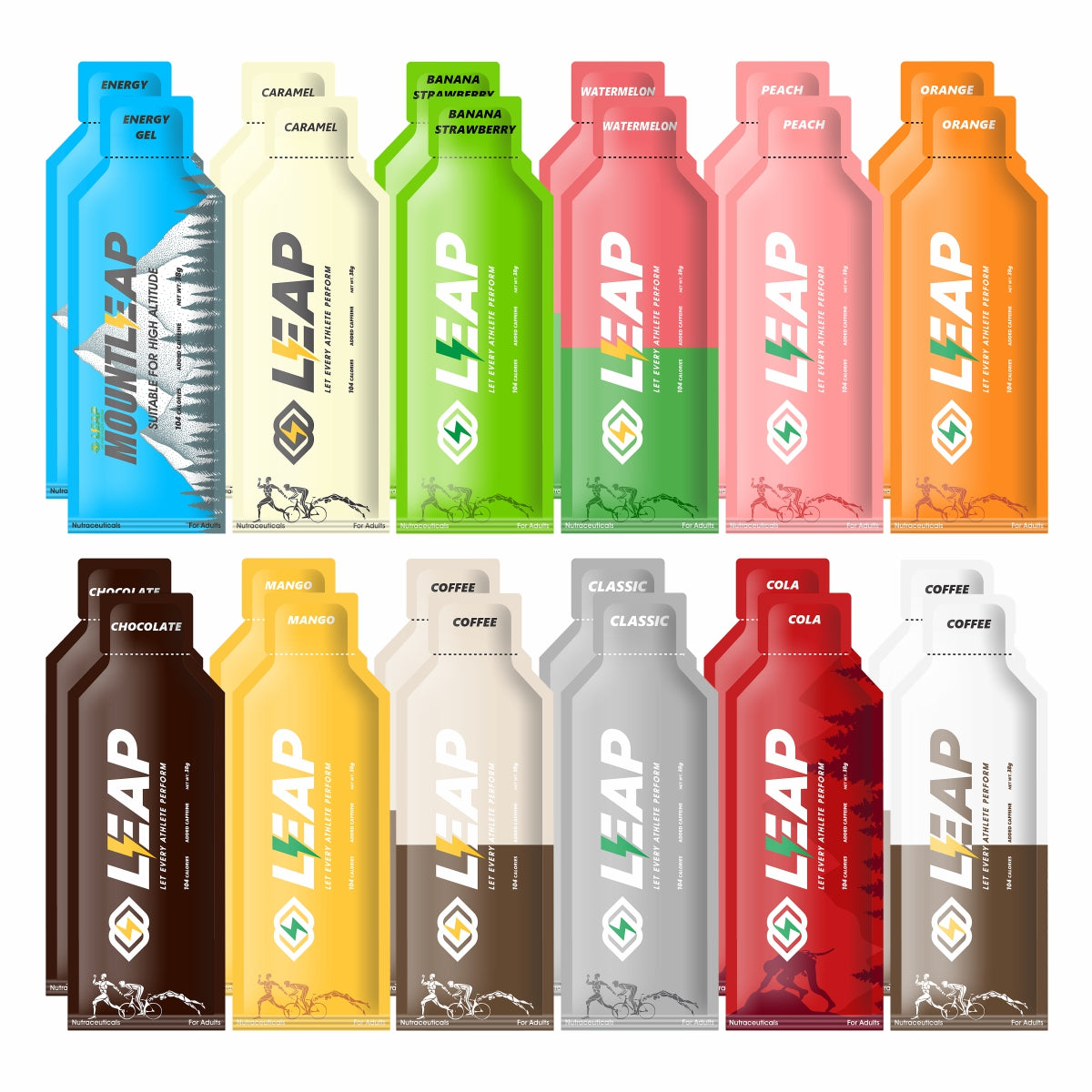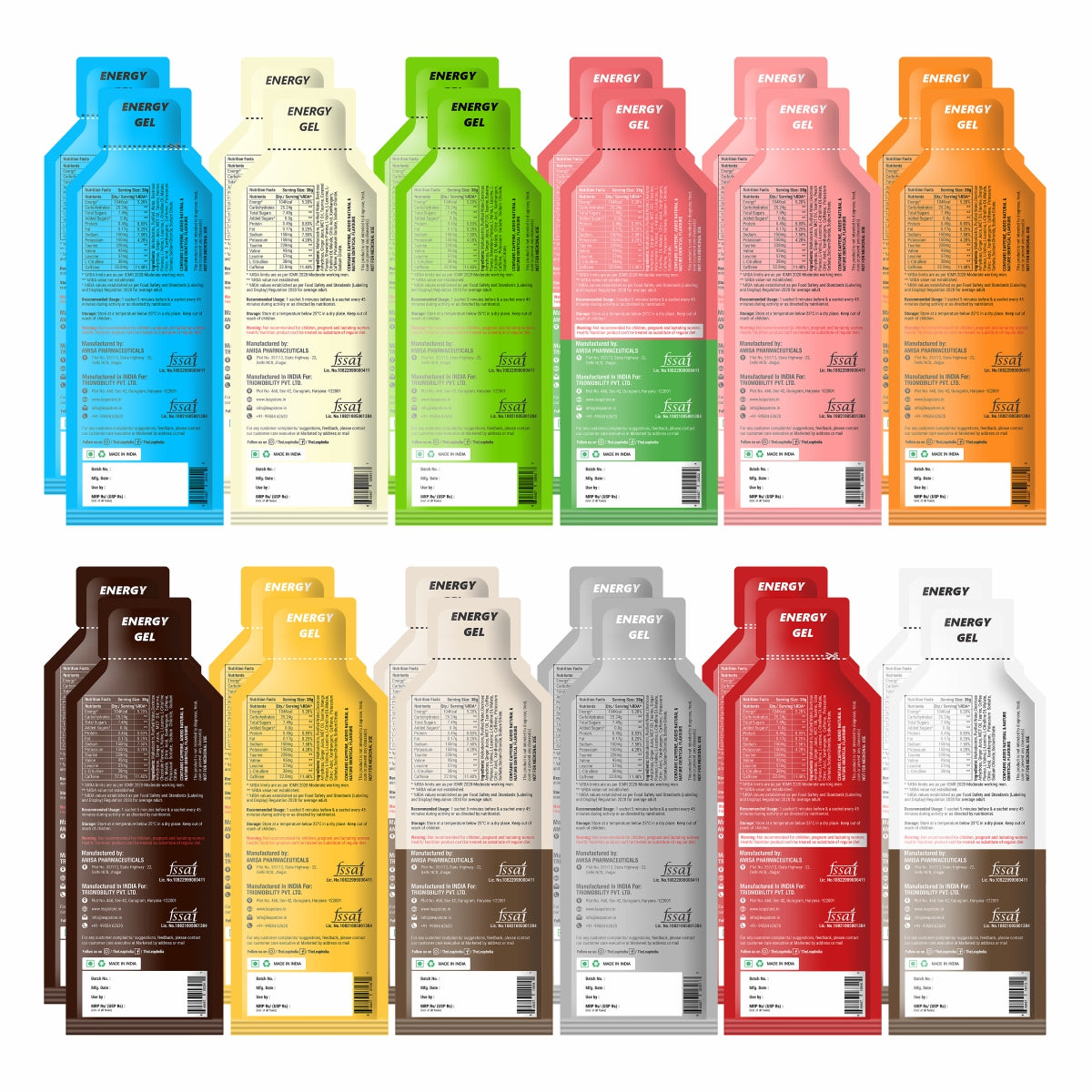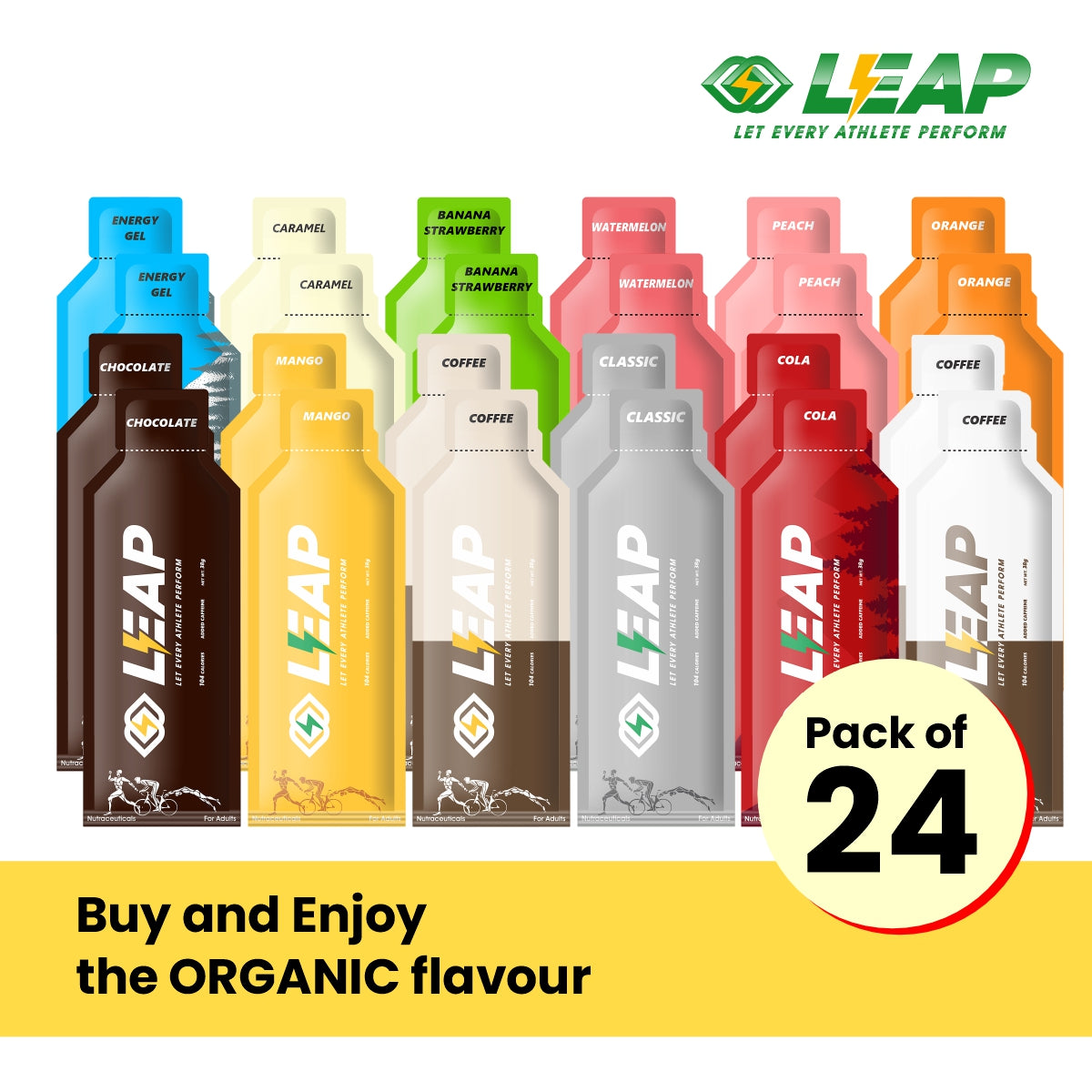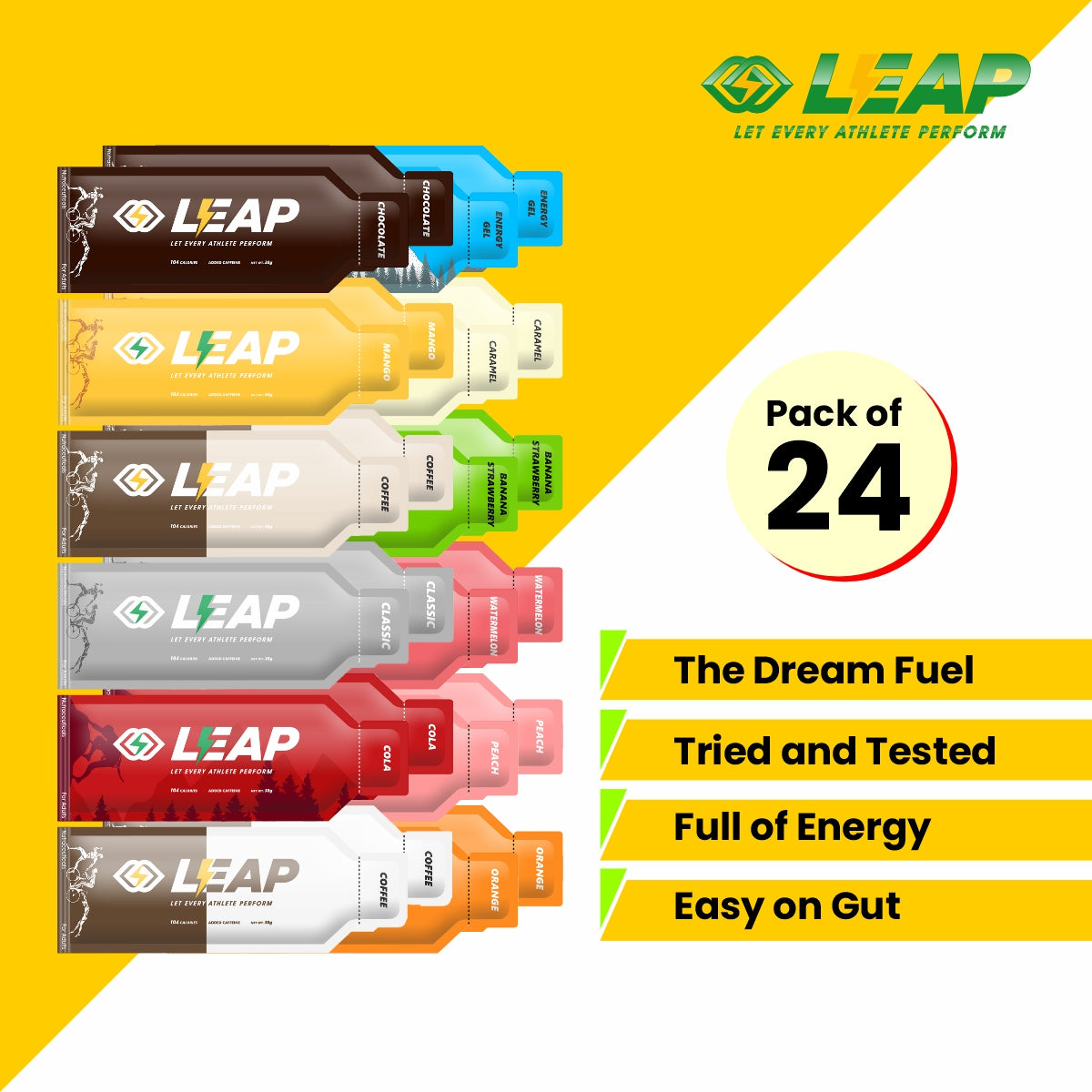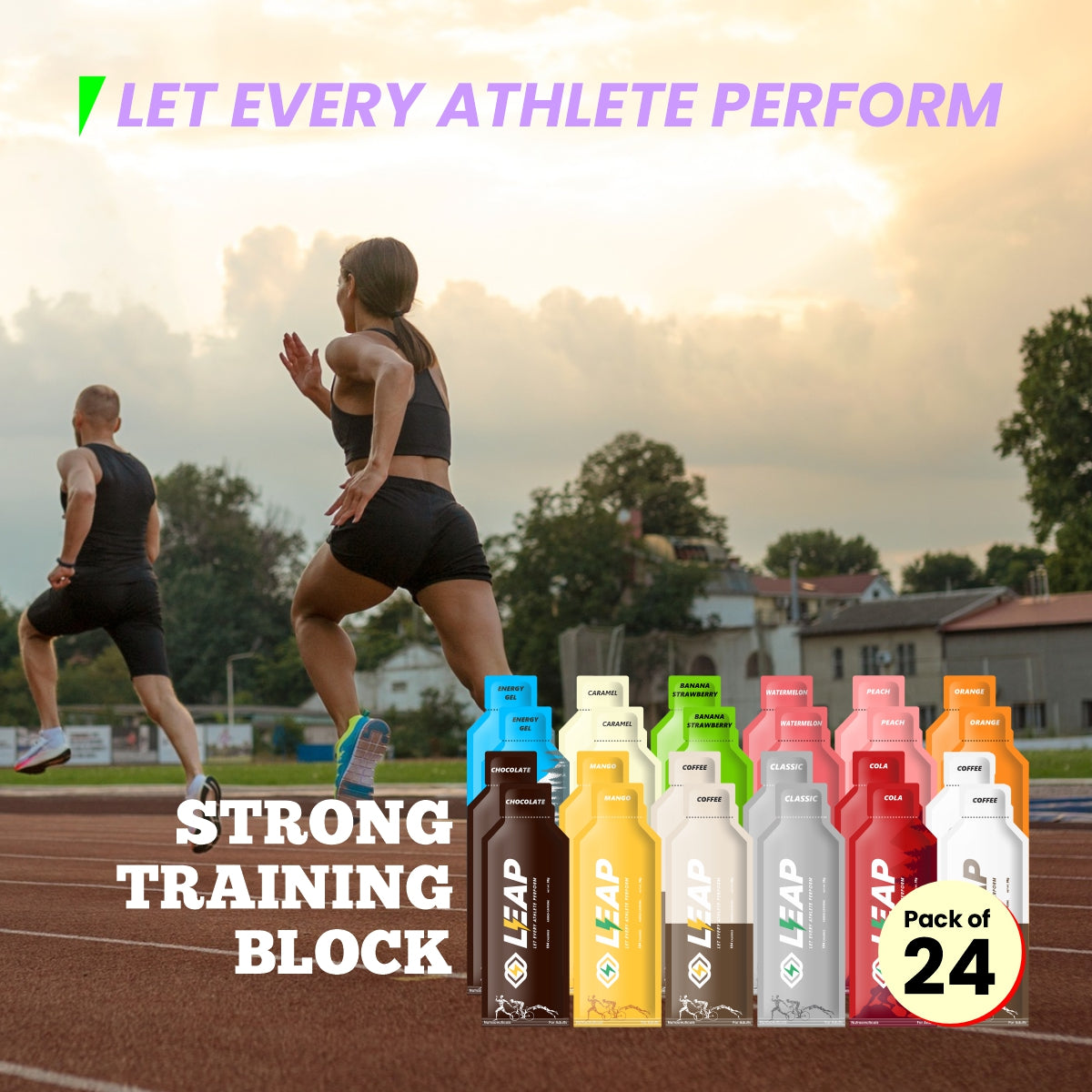 FAQs
What is Leap?

Leap is India's first sports nutrition brand that has been launched by ultra-runners who understand the importance of nutrition in endurance activities. Our founders have represented India in many international events.

They have tried Leap in their goal races to test its effectiveness before sharing it with the sports community in India. Leap is a science-based company and we only use the ingredients that have been proven effective in various clinical studies and peer-reviewed research articles
Are Leap products Vegan?

Yes, all of our products are Vegan. Our ingredients have either been sourced from natural food sources or have been synthesized in the lab. No animal products have been used in Leap.
Are there any side effects of gels?

These gels have been approved by FSSAI and there is no health concern related to their consumption. If you have a pre-existing medical condition, please consult your doctor.
Can Leap products be used as food?

Leap energy gels along with Leap storms can definitely be used as food, wherever necessary. Leap mountaineers have survived on gels for a few days. We however recommend that our product should be taken as a supplement when one is not involved in extraneous physical activity.
Can energy gels be consumed as is or it needs to be taken with water?

Although energy gels can be taken as is, we highly recommend the consumption of this product followed by a few sips of water. This enhances the absorption of all nutrients that provide instant energy.